In this year's edition of Chrissy's fucked-up Halloween decor…
Dolls are creepy. Like, on a scale of one to terrifying, they top the charts. When I used to work haunted houses, I always wanted to build a room that was all creepy baby dolls. So this year, when I started planning OUR haunted house, I knew that baby dolls would play a role. I would love to have a collection of creepy zombie babies like the one below, but I was on a tighter budget than that would allow.
These guys are all on my dream list. Instead, I thrifted and garage sailed for some of the most terrifying dolls.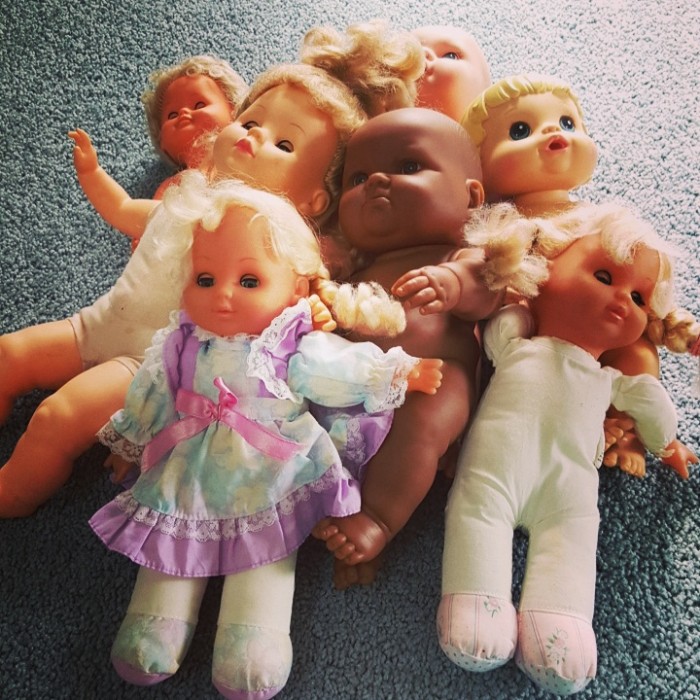 My criteria was simple. I was looking for eyes that stare you down. Dolls with easy-to remove limbs. Talking dolls that say things like "I'm sleepy," which sounds like "I'm creepy." Horrifying giggles.
Then, I had to really think about what I wanted to do with them. We all know I'm twisted as fuck when it comes to Halloween. I
turned our apartment bathroom into a murder scene
. I made a hanging
dead body wrapped in spider webs
(just wait until I show you what I did with the body this year!) in our stairwell. I love elaborate and disgusting decor. It's a thing. So I started pinning all the baby dolls to my
Halloween party board
.
I finally sat down to start painting…and this guy happened.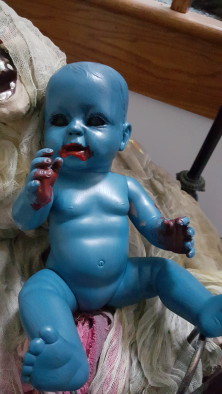 I used a combination of blue, purple, black and white acrylic paints from my art box to create this ghostly blue color. I wanted to make him a little bit grey/bluer, but I ran out of white paint…and he turned into a creepy blue zombie baby. My friend Lily thought he needed a little more oomph, but I never did get time to add to him…
I was busy working on the other dolls…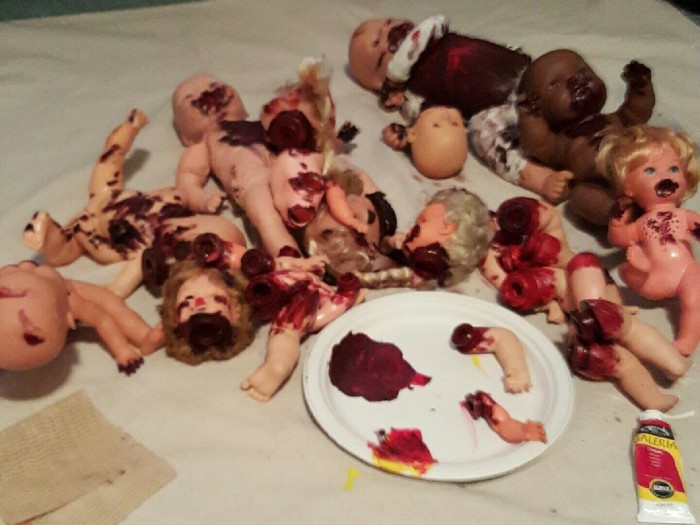 I decided to make a lot of bloody, creepy doll parts, using the blue doll as the cannibal leader doll, a few full size dolls and a lot of doll parts. For the blood, I used crimson red, yellow, and black paints mixed together.
When I sent Lily a text picture asking if I took it too far…she thought it was fantastic and took the thoughts out of my head with additional scene details. Her boyfriend was less impressed.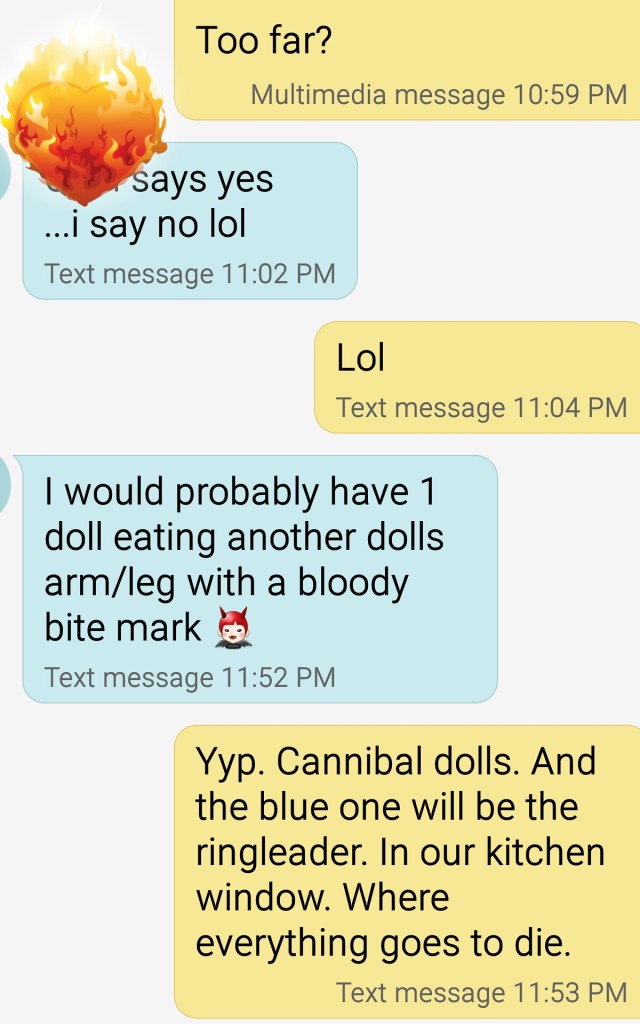 Then, it was time to decide where and how I wanted to display these doll parts. I have this really fantastic kitchen window, which is awesome for decorative accents, but terrible for plants (even if that's what it's designed for). Mostly, because I did not inherit my mom's green thumb and I refer to this window as the place where things go to die. Honestly, our whole house/yard/property is where plant things go to die, but that's another story for another day.
And so it was decided that I would create an eerie scene of cannibal dolls and the parts they left behind.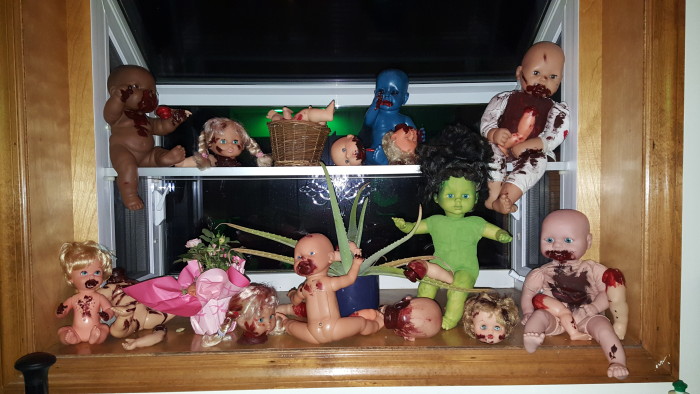 Of course, the best way to add even more creepiness is to use lighting. Our kitchen and family room were lit with a green glow that illuminated a lot of our home, but the babies needed something a little darker. So we put a red light above the sink to radiate around the dolls.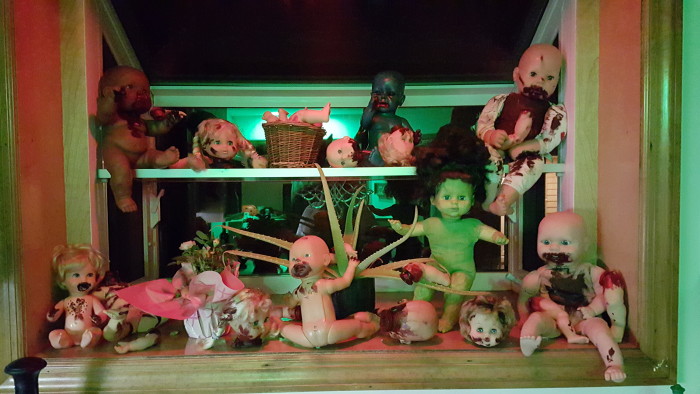 The green glow from the house and the red illumination from the light over the sink made these creepy baby dolls in kitchen window even worse than without the lighting. When we had people over last week, they were either horrified or impressed. I suppose that's pretty normal.
What creepy things do you do for Halloween? What's the most screwed-up thing you've done as a decoration? Would you make these creepy dolls or buy some of the zombie babies I showed you above?
Some links used in this post are affiliate links and will earn me a small commission so I can keep spending money on the important things…like Halloween decorations.