OK. Here goes. The following conversation happened last night:
Me: So, do you want to try out our new game? (Our previous roommate bought us this sweet game, Dominion, for Christmas…and the next day, I had popped it, organized it, and read all of the rules. I proceeded to ask Brian to play every day thereafter.)
Brian: I kinda just want to relax and snuggle and watch TV. (The same answer he's had every night since we got the game).
Me: You don't ever want to play games with just me. It's just like when I was a kid. I wish we had a dog.
Brian: You can't play games with a dog.
Me: Yes, you can.
Brian: But you'll always win.
Me: That's not true!
Brian: I know…(and then he hugs me sympathetically).
We finally got to play Dominion last night. He felt so sorry for me…and, wait for it…he enjoyed himself.
The following conversation happened on Christmas.
Little A: Auntie Chrissy, did you bring LIFE?
Me: No, A…sorry.
Little A: That's OK. Can we open presents?
Me: Sure. Ask Auntie Patti, though. She's the boss.
Little A: yells Auntie Patti! Can we open presents??
Mom: Sure! (She was never that easy going when WE were kids!)
Present opening ensues.
Little A: opens games Oh sweet! Can we play!?
Me: Definitely!
So we start setting up Catan Jr. which is awesome.
Dad: Sure beats playing with the dog, right? he chuckles at me
Me: Dad, did you read that blog post?
Dad: Huh?
Me: The one I wrote about Bismark?
Dad: No, I just remember it. You always played LIFE with Bismark. I remember you lost a lot, too.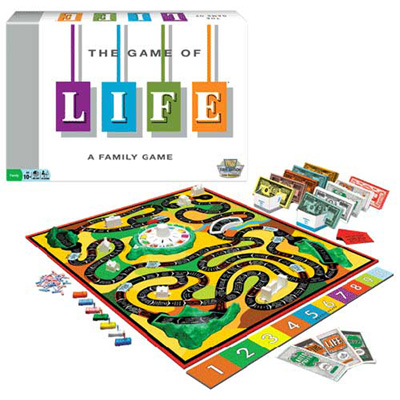 Woj (My Little Brother, whose name is also Brian, which gets confusing): You lost to the DOG? Hahahahahahahaha! (Literally that many ha's)
Me: Sometimes…
Woj: How many times did Bismark go to college?
Me: A lot.
Woj: Hahahahahahahahahaha!
So there you have it, Blog Friends. My dirty little gamer secret. And you know what? Right now, I totally wish I had a dog.