Yes, it's true. I have a jealousy complex. Honestly, I think that most people do…
I've always been a little bit jealous of the majority of my pals (I mean, they all have qualities that I admire–that's why they're my pals!), jealous of girls who are skinnier than me, prettier than me, taller than me, shorter than me, have more money than me, are smarter than me…you get the point. Jealousy. It's a problem.
I love my best friend with all my heart. Alas, I am just slightly jealous of her brilliance (and her adorableness, and her amazing-ness). My favorite Word Worm over at Words for Worms proclaimed yesterday that she was participating in a super cool reader-blog-dealie… in which everyone reads a fairy tale of their choosing and then reads other versions/modernized versions of said fairy tale and discusses them in future blog posts (sometime in early 2013).
Obviously, I wanted to play. I realize that I am not a book blog. Or a reader blog. But I love reading. In fact, I have several posts dedicated to books. OK. I have two posts dedicated to books. But still… you get it.
Luckily for me, in her post, she directed me, just as I shall direct you to Project: Fairy Tale if you, too, would like to be as cool as the other readers and writers and play the fairy tale game.
The rules for said game are simple: Choose fairy tale. Read fairy tale. Read 3 like-stories. Write. Write. Write. Write. Excitement! I happen to have just the book for the assignment!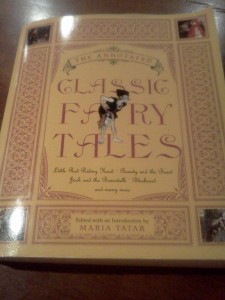 So, I made my way over to the Project: Fairy Tale page, perused the already chosen stories, and decided on Rumpelstiltskin.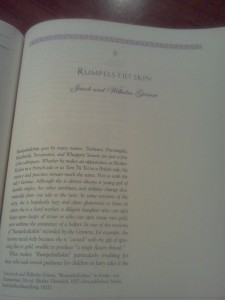 As Rumpel is my favorite character on Once Upon a Time, and it was one of my favorite Faerie Tale Theatre episodes starring Shelly Duvall, I got super stoked to look into his tale a little deeper…and find more stories like his.Wikipedia gave me a few suggestions, but I'm going to try to find some more.
So I'm pumped! I've already got a bazillion fairy tale esque blog post ideas brewing in my brain. The month this blog circle goes live is going to be so so fun.
From slightly feigned/slightly real jealousy to fun with fairy tales…does that mean a happy ending?