Yesterday, I posted on Facebook, "I'm rich!" and left for work. I received the following comments-unedited thankyouverymuch:
A friend's hubs: "share?" Penny's dad: "Lotto? Find a $20 in your winter coat pocket? Enquiring minds…" A friend: "I guess payday." Mama Missy's Mama: "I'm guessing it is not money!" Molly: "PAYDAY!!!!" My aunt: "Remember poor old Aunt Nanette and Uncle Gary…lol. Seriously, what's up? A friend: "Yay!" A friend: "Say it like Chappelle!"
Obviously, the hype was because after 6 months of unemployment and 3 months of hourly wages, I finally received a nice chunk of change dumped into my bank account…you know, one that I don't have to pay back to the Department of Education.
In honor of my very first pay day from my new job, I've decided to share the love/wealth and host my very first giveaway! (Don't worry, Mom…I promise it's not going to break the bank).
As a blogger who feels like she finally entered the blogosphere, I've gotten involved. I participated in my first "secret admirer" swap (and got a sweet scarf, to boot!), I've received and passed on sweet chain-like-but-wonderful-awards, and I'm even participating in a blogger reading event called Project Fairy Tale. Blogging seems to be a really great outlet for me to tell my story, and I'm having the time of my life doing it. I decided it's time to play the giveaway game.
The rules of Chrissy's Giveaway Extravaganza
This giveaway will include a few Chrissyssentials. What are they you ask? I've got a list. Brian knows what's on the list. You do not. They are my favorite things.
Leave a comment with a guess or multiple guesses of what you think the prize(s) will be (Hint: reading my blog gives a lot away)
For commenting, you get one entry into the random drawing
For guessing correctly, you get one entry into the random drawing per correct guess
For tweeting this post (with @chrissawoj) you get a bonus entry into the random drawing
Double bonus entry: If you're a reader with any sort of regularity, you know that I love personal photo shoots. Tweet @Chrissawoj or e-mail Chrissawoj @ gmail with a pic showing me how much you want to win (NOTE: In doing so, you are giving me the right to post your pic on my blog with my own commentary. I promise I'm nice…just a little sassy…)
Commenting and Tweeting ends on Friday
Winner will be drawn this weekend
Results posted on Monday (at which time, the winner and I will need to chat so I can send the goods!)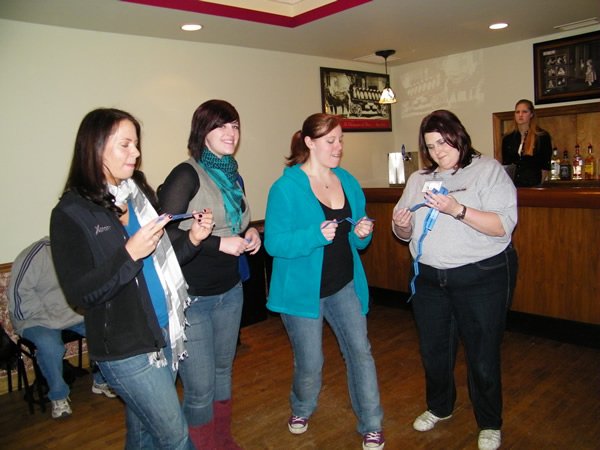 Who's excited?!?
What do YOU think is in the goodie bag?