I seriously had the best day ever. So I'm not sure if you remember that one time I walked head first into a pole because I was busy excitedly Skyping my co-workers? (If you haven't read that, you probably should. Because it's a prelude to this tale. Plus it's funny. I'll wait.)
Okay, fine. If you didn't read it, long story short: I got on a 3-year waitlist for the Vienna Beef factory tour.
So fast forward to January when the company e-mails me to say, "Oh hey, by the way…you can't come in September of 2016 because we're moving to the Southside. So why don't you come in April instead?"
Less than a year wait for something that people wait an entire lifetime (the lifetime of toddler, but a lifetime nonetheless) for?! Hell. Yes.
A brief look at the Chicago hot dog dynasty from the eyes of me
I grew up in a mom-and-pop Chicago suburb pub. My parents owned a bar from before my birth until shortly after my 25th birthday. My father prided himself on the highest quality Chicago-style hot dog and beef sandwiches. And they were the best. Because he used Vienna beef. I learned early on that the only hot dog is a Vienna beef hot dog.
The Vienna Beef Factory Tour
I knew it would be just like Charlie and the Chocolate Factory…only with the Willy Wonka of Meat Candy instead. And I would end the tour with a lifetime's supply of hot dogs. (As it turned out, it was again a lifetime supply for a toddler, but a lifetime nonetheless. Okay fine it was a hot dog and fries, but the best hot dog and fries ever…with RED cream soda).
We were greeted at the back office by Danny, our Willy Wonka for the day.
He handed us hard hats and coats…hair nets and beard nets (I was not given a beard net for the 17 hairs on my chin).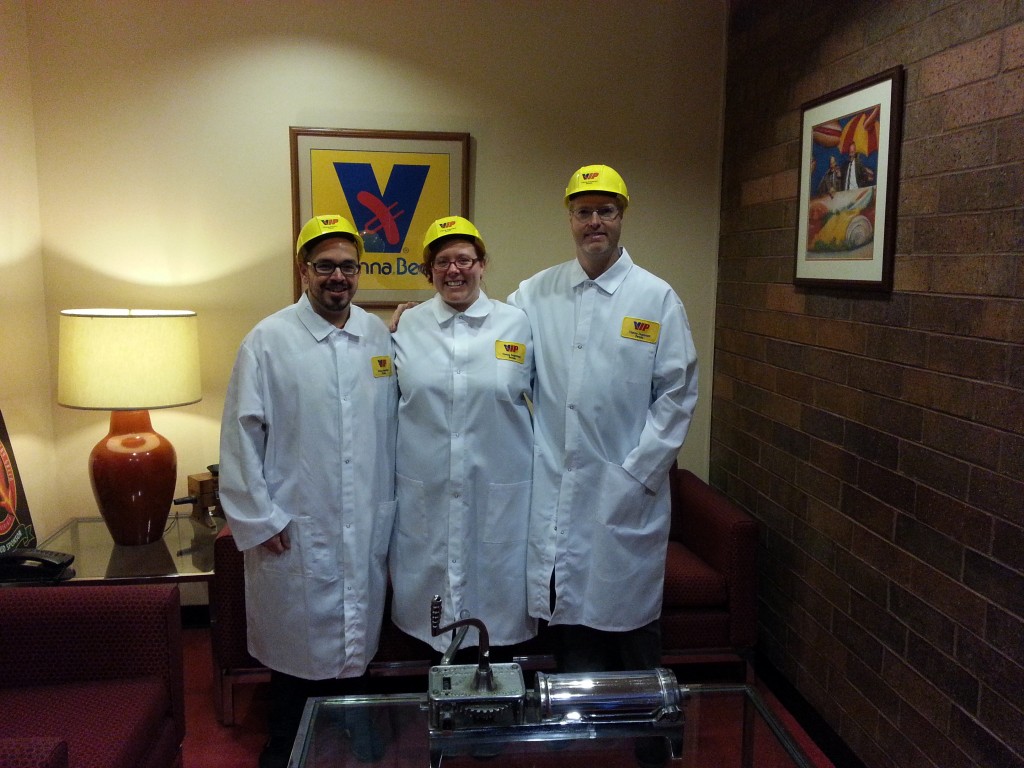 From the get-go, Danny seemed to know everything and anything about the factory. As we walked through the place, he greeted every. single. person. by name.
He told us that he had been working there since he was 16 and that it was most definitely a family operation. He explained that they tried as often as possible to hire friends and family members of employees, though they did of course have an application process for others, as well. I asked if he had family working their, and he gave us a knowing grin. I obviously assumed he had a parent or aunt/uncle who worked on the assembly line or in the offices.  As he said, "Pressing on," I imagined he was wearing a purple coat and brown hat instead of the Vienna Beef jacket and hard hat. I was calling him Willy in my head, instead of Danny.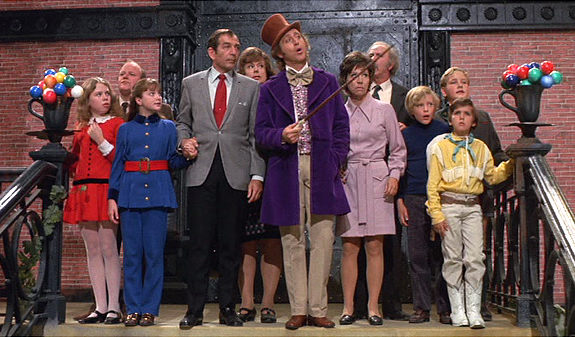 Prior to attending this most-exciting event, I was told that it was a crazy idea. I was told I'd never want to eat a hot dog again. I was told about pink slime. But I was confident that these 100% beef hot dogs were made from the purest of cows.
As we made our way through the tour, we learned of their incredibly clean factory practices, including our required handwashing as we entered the factory (even though we didn't touch anything), feet washing as we progressed from raw to prepared food, and the daily quality assurance taste test.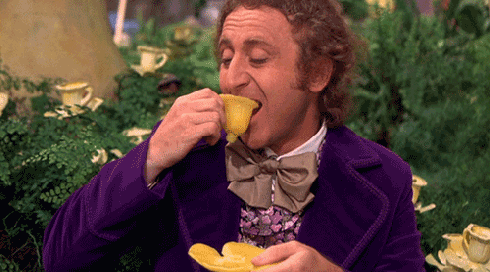 At the end of the packaging process, once items are sealed, but before they're boxed, there's a metal detector to make sure that not even a single speck of metal from the machinery made it into the meat. It really felt like we were with Willy Wonka when we saw the conveyor belt slide open and drop a package of hot dogs into a bin after passing through the metal detector. Apparently that was a bad egg.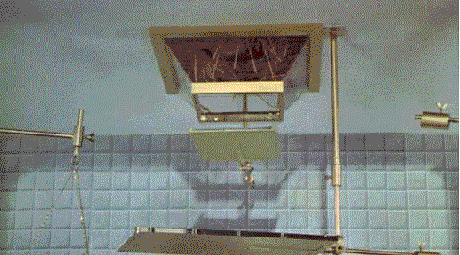 Of course, we learned a lot about the process, too. The factory is pretty cold because obviously there's the meat to think about. They also add ice to keep meat at the right temp-which is where the added water content comes from in the product ingredients. The strip off the external fat (which could have bacteria and stuff you don't want in your hot dog or beef sandwich) from the meat that comes in, and dye it green right away so that it doesn't end up in your food.
They make different meat products on different days, based on the demand and seasonality of certain products. Everything is designed to have complete uniformity, right down to the fat content. We got to check out the gigantic smoker with the hickory chips that they use in the smoking process just as the hot dogs were being removed. It smelled like heaven. Legitimately. During the daily taste-testing, employees taste products to ensure quality and maintain that uniformity. When we joined the tasting team, they asked us how we were enjoying ourselves, and of course, I looked at this guy and told him, "THIS IS THE BEST DAY OF MY LIFE."
I think he thought I was joking. But I wasn't. Mostly.
We got to check out the gigantic smoker with the hickory chips that they use in the smoking process. It smelled like heaven. Legitimately.
And the tour ended with a free hot dog, fries and a drink from the Vienna Beef Factory Cafe.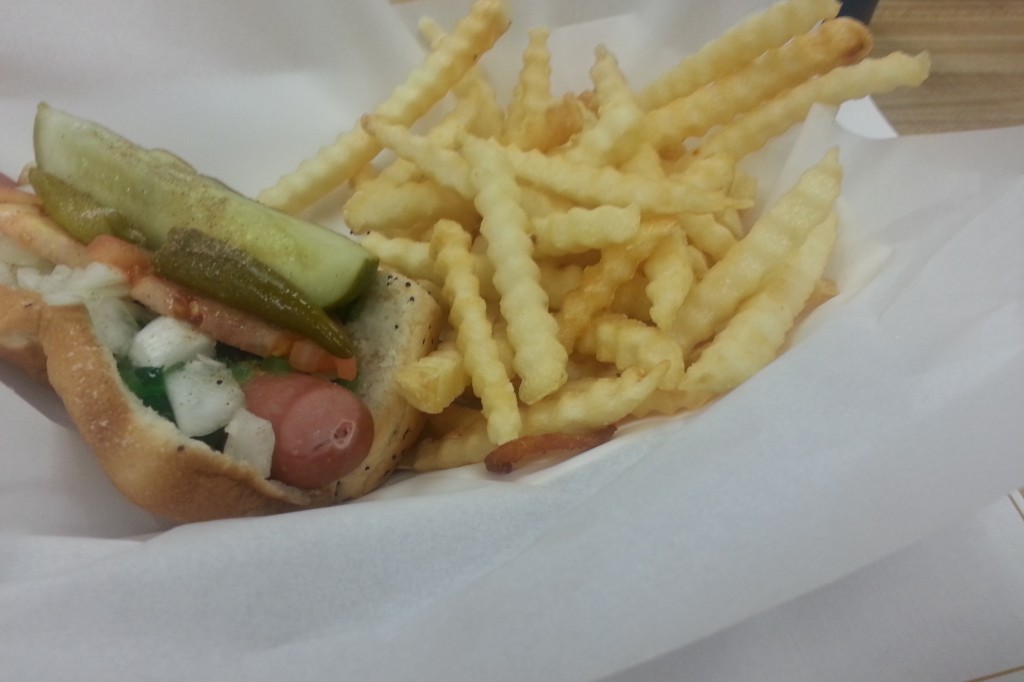 It was magical and wonderful, and I'll never eat a hot dog that isn't from Vienna Beef again.