I'm dying for Mexican food right now, you guys. My hope is that Brian and I will be going out for tacos and stuff (mostly margaritas, but whatever) if he agrees to it, of course. Otherwise it might be blender 'ritas and tacos at home for this girl. Either way, it's fiesta time, my friends. And what good is a fiesta without food that leaves you ready for a siesta (I know. Bad joke. Don't care)?
Brian: May the 5th be with you!
Me: Huh?
Brian: Happy Cinco de Mayo!
Me: Oh. Yeah. You too. Wait. We should get tacos and margaritas for dinner tonight.
Brian: …
Me: I mean, it's the only logical thing to do.
Brian: I guess…
Me: Or we could skip the tacos and just get margaritas.
Brian: I'd rather have the tacos.
Me: Okay, we'll compromise. You can get tacos, and I'll get margaritas.
Posted by Quirky Chrissy on Tuesday, May 5, 2015
So, if you're sitting at home thinking about restaurant-quality fajitas for dinner tonight, I've got the perfect recipe (although, maybe not quite a full recipe as I'm a big fan of throwing shit in a pan and hoping it turns out). Allow me to light the path to Cinco de Happiness. Taco night and fajita night are both really big deals in our house. Brian loves pico de gallo the way I love cheese. It's a staple. So any meal that includes his favorite staple is a win in Brian's book. And I just love stuff with lots of ingredients. So there's that.
I'll warn you now, that this recipe isn't for those who want everything homemade from scratch. That's a rare occurrence around here, what with our crazy busy schedules. This is designed to be easy. Feel free to substitute the cooking part of the chicken with a rotisserie chicken from the grocery store. I'm not saying we've never done that in order to save 30 minutes. (Spoiler alert – we do it all the time).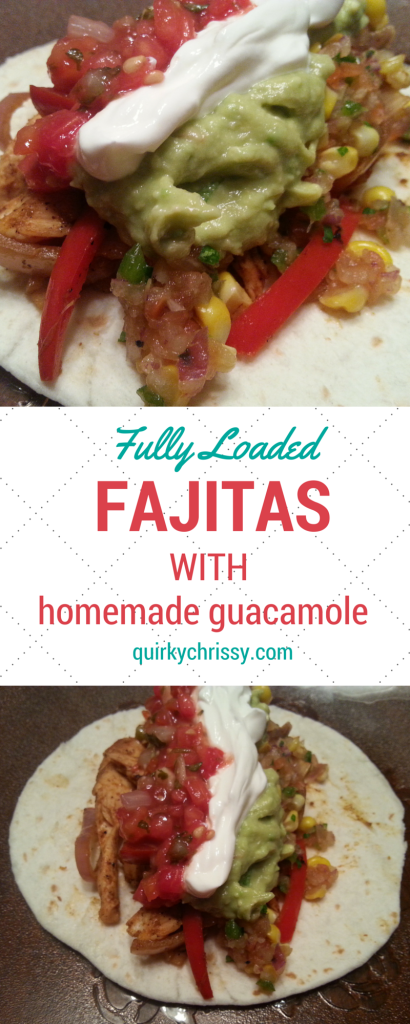 Easy Fully Loaded Fajitas
Here's what you'll need:
2 Bell Peppers – I use red, orange, or yellow, but you can rock any color combo you like
1 Red Onion – feel free to use your favorite onion – I like red best
3 Tbs Olive Oil – to cook veggies and chicken
1 lb Chicken – you could do steak too, but I've always been partial to chicken fajitas
Fajita Seasoning – you can cheat and buy a packet from the grocery store or if you're experimental, sprinkle in a teaspoon or so of each of these (Pro-tip: use the cayenne pepper to preferred heat):

Paprika
Cumin
Chili Powder
Onion Powder
Garlic Powder
Cayenne Pepper
Black Pepper
Salt

8 Flour Tortillas – Brian prefers corn always, but I prefer flour for loaded fajitas because they hold together better
Guacamole – homemade recipe below
Pico de Gallo – we usually get ours from Trader Joe's
Tomato Salsa – because sometimes you want more than just pico, amiright?
Trader Joe's Corn Salsa – this stuff is fucking amazing
Sour Cream – I feel like it brings all the flavors together
Step 1: Slice peppers and onions into strips
Step 2: Saute peppers and onions in 1 Tbs of olive oil 
Step 3: Slice chicken into thin strips
Step 4: Saute chicken in 2 Tbs of olive oil

Step 5: Once the chicken is cooked all the way through, add the fajita seasoning

Step 6: Combine the veggies and chicken in one pan, allowing the seasoning to cover the chicken, peppers and onions
Step 7: Heat the tortillas in the microwave (wrap them in a damp paper towel and heat on high for 20-30 seconds)
Serve and enjoy.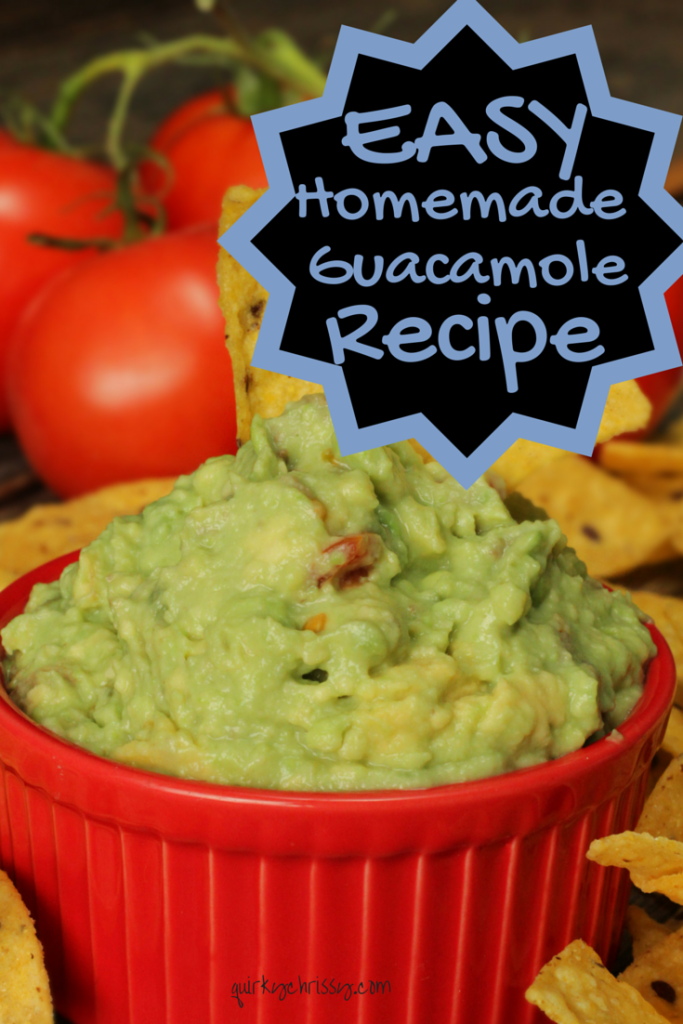 Homemade Guacamole
We're big advocates for the simplest recipes. Guacamole is easy when you've got fresh avocados and a few key ingredients (lime and pico). I used to get all crafty and creative with the guac recipes, but then we tried this, and it was easy. And fucking magical.
2 Avocados
1 Lime (zest and juice) or 2 Packets True Lime
1/4 Cup Pico de Gallo
Salt and Black Pepper to Taste
Step 1: Cut avocados in slices or cubes
Step 2: Mash avocados
Step 3: Add the other ingredients and mix well
BOOM.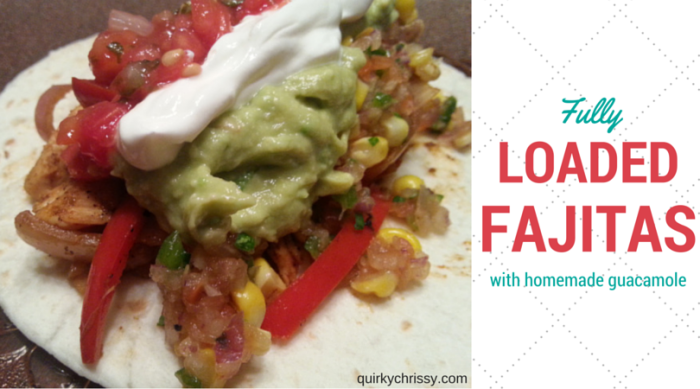 What are some of your favorite go-to recipes for Cinco de Mayo? Have you tried making homemade guacamole? Will you be drinking margaritas with me tonight?