My brother is a crafty, creative genius. Long before Etsy was a thing, my brother was hand-making jewelry, whipping up delicious creations in the kitchen and helping me build the most elaborate indoor forts known to man.
Most recently, he's been found hand-making hamster cages.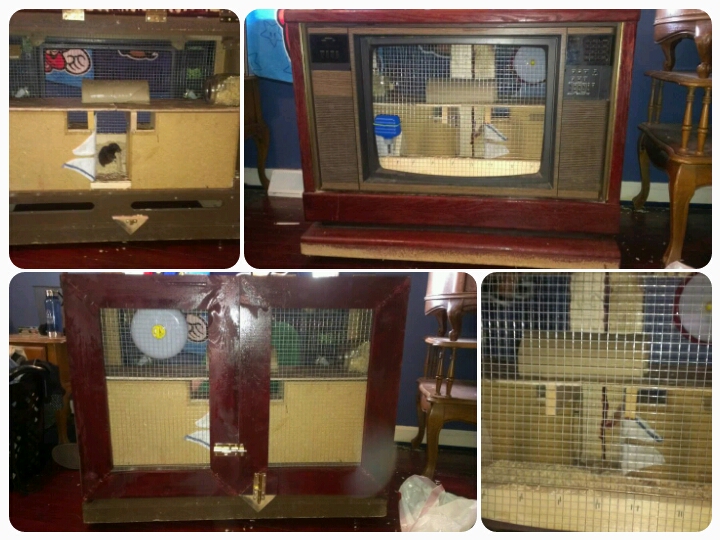 We grew up with hamsters. We started with a gerbil named Axel Rose, followed by a hamster named Jon Bon Jovi. The string of hamsters in our lives ended with my little furry lover, Romeo, who ironically ended his own life by trying to escape his cage, Houdini-style.
My brother's menagerie was always a little more exotic than mine, though.
The chameleon that I may have terrified into losing it's tail… (Seriously, this was the most horrifying thing on the planet. My brother told me to hold the damn thing by its tail…so I did…and the next thing I knew, I was holding a tail…but no chameleon).
The sickly turtle that couldn't get used to living in a terrarium, even under a heat lamp. It was part rescue mission/part lost cause.
The hamster that we mated with our cousin Rachel's hamster…who proceeded to eat all of the babies (Rachel's hamster, not my brother's hamster…or Rachel.)
The cannibalistic snail that ate my snail…and my replacement snail – jerk.
The pair of hermit crabs that lived in various seashells in the short time we had them.
The spunky dalmatian that was born in a thunderstorm and captured all of our hearts (including the old-man dog and old-man cat that dominated our household zoo).
The frogs that I apparently have zero recollection of whatsoever (but my brother assures me that they existed).
You can see, he's always been quite the animal lover. Me?
Okay, fine. I loved animals too.
I haven't had my own pet since Sammy Fish (my finned college bestie, who hated car-travel but had to suck it up at least four times a year). And according to Brian, I won't have one for quite some time. Sad face Although we have discussed our very own exotic menagerie…and maybe a bunny named Bunnicula.
My brother, on the other hand, has had a string of delightful pets, including several hamsters and my newest little furry nephew, Biscuit the Hedgehog.
Whenever my brother gets a new pet, he feels the need to really create a home for it. But those store-bought cages just don't do it for him. So he BUILDS HIS OWN PET PALACES. He builds cool toys for them to play with. He basically does some crazy juju magic to create these genius inspired homes for his fur babies. I absolutely adore him.
So there you have it, my friends.
My brother is a creative genius and has the coolest pets around. With the coolest pet palaces around.
Would you build unique homes for your pets? Do you have any cool pets? Do you have any ridiculously crazy pet stories? Am I the only person in the world who de-tailed a chameleon?