Did you know today is National Siblings Day? A mere week after my little brother's 32nd birthday (it's currently the very brief two months in which we're the same age). I may have weird sister drama, but whatever; it doesn't even matter because I have the best brother on the planet. Seriously. There are SO many reasons I adore my brother. We even have matching tattoos, you guys.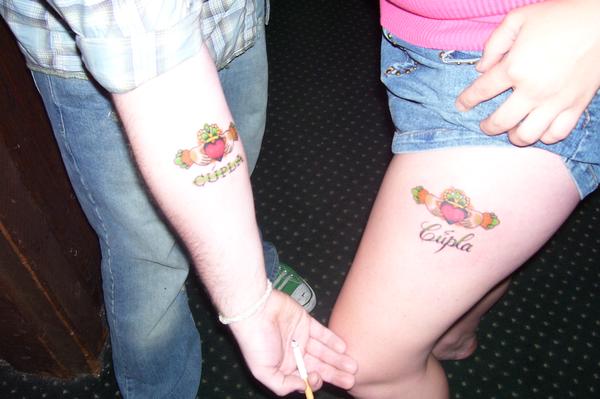 My brother, whose name is also Brian (we'll call him Woj to minimize confusion with my future husband), builds palaces for his pets – his "fur" babies. I use "" because one of them is a hedgehog. Honestly, I don't know if Biscuit actually qualifies as a fur baby.
Woj and I have shared thousands of tiny and huge moments from wreaking havok on our home turf to tearing it up in New Orleans. He's been my partner in crime for more than three decades – we even had to sneak INTO our house together in high school. My favorite karaoke buddy, my twin, my friend. And hell if he doesn't know me better than I know myself, sometimes. I can't tell you how many times he's said to me, "Chris, you should watch/try/play/eat/drink/make this." Ten years ago, I'd have looked at him as if he was insane. In fact, I did. On several occasions. I took the long way around, but as it turns out, he was right the whole time. (Don't tell him I told you that.)
Things my brother told me to try that eventually made me a better nerd
Harry Potter (I can't even believe I'm admitting this)
Firefly (I waited years to actually try it. And really it was on the insistence of my boyfriend that I watch it. And oh man was I hooked)
Gamer games (and now I'm WAY more obsessed than he is)
GenCon (yeah, he was going to them long before I became an addict)
Netflix (yes, you guys. My beloved one and only Netflix, without which I might not be obsessed with Gilmore Girls, New Girl, or The Unbreakable Kimmy Schmidt)
X-Men (I remember a time in my life I thought my brother was crazy for loving Wolverine so hard. And then Marvel introduced me to Hugh Jackman)
Recently, Brian asked me, "What else did your brother tell you you'd love and you didn't listen to him about?"
Me: World of War Craft
Brian: Don't do that. You'll get addicted.
Me: YuGiOh
Brian: …
Me: Magic the Gathering. But I know I'd like that.
Brian: Yeah, but those are both collectible card games, you have a problem with collecting things. So, uh…try to stay away from those.
We'll see, Brian. We'll see.
What awesome things in your life can you thank a sibling (or a bestie, if you have no sibling — or if you have sibling drama) for? 
This post is brought to you by my favorite media streaming company, Netflix (Thanks for the intro, Woj!). As a member of the Stream Team, I received a complimentary year of streaming and a device on which to binge watch shows like Firefly and Kimmy Schmidt (who returns this week!). As always, these opinions are my own, and I would totally still have Netflix even if they weren't so darn good to me.