I can't believe it's only a few weeks until Christmas!!! Aren't you so excited?
Brian knows that my love of Christmas is strong…which is why he not only humored me by participating in the best Christmas card ever this week, he also helped plan it out. It's brilliant. I may have a few left if you still want one…but it's first come, first serve.
Here's a sort of sneak peak…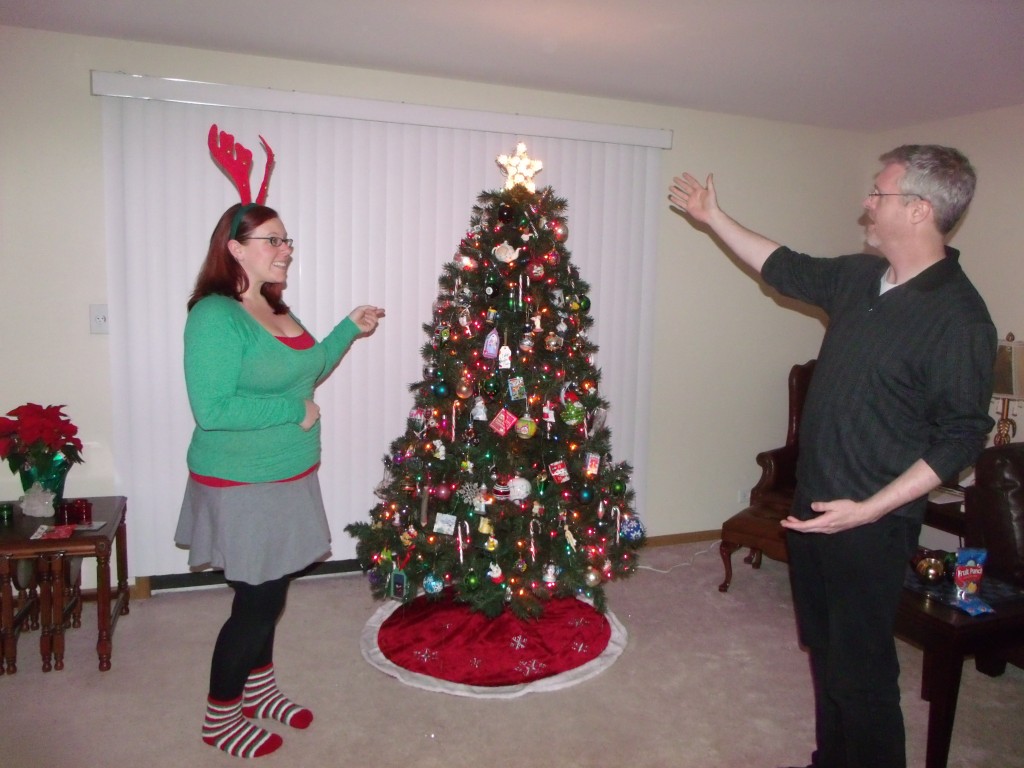 Back to the usual shares…
This week wasn't my finest hour. I've been having some overwhelming feelings of not excitement because I would like to be gainfully employed with a company that is awesome. Freelancing can be fun, but it's not constant. Plus, I miss that whole team environment that comes with a job. Brian knows what's up though, so he's always trying to cheer me up.
The Sloth
As you well know, sloths are kind of a big deal in this house. So he still sends me the cute sloth sitting in his desk. Sorry guys, that picture just never gets old. Ever. One day, we will have a sloth named Ebenezer. And it will be wonderful.
You Think You Had a Bad Day…
So Brian sent me this amazing link to 19 gifs of pure joy. 19 people who've most definitely had a worse day than me. Believe me, it's worth clicking this link. I don't know how or where Brian finds this shit…but it's freakin' awesome.
Nerdy Physics Stuff
On one of our dates in the first few months of our relationship, Brian took me to a physics discussion on Dark Matter at Fermi Lab, which is a cool science facility practically in our backyard. I was unsure as to whether it was a good idea, but he seemed so excited about it that I agreed to go. Other than it being long and during dinner time and I forgot to bring snacks so I was a little cranky, it was really cool.
So when Brian discovered this article on "something cooler than dark matter," and came home all excited about it, I knew I had to share it with you. Perhaps you sciency and nerdy types will enjoy it. If you're not into that, I understand…I've got something for you, too…
Reading Gaming Goodness
For the literati and the gamers, Brian found this most amazing comic strip in the history of ever. When I taught high school freshman, one of my favorite short stories was The Most Dangerous Game. If you have not read it before, take a few minutes and go read the story first. The full text is linked above. It's short. I'll wait.
Read it? Fab.
So now you know the surprise ending to The Most Dangerous Game (and if you don't…seriously go read that shit. it will blow your mind. Maybe. At the very least, you'll be just a little bit smarter for having read it.)
Brian sent me a comic strip called, The Most Dangerous Gamer.
Hysterical right? The competition. The angry I'm-better-than-that-guy gamer mentality. The winner. Brilliant.
An Overabundance of Cute
OH! And this is what happened when Brian discovered Google Drives has a survey format…He created a survey for me. I mean seriously. I almost said no because it was an option! If I made one the choices would be, "Yes, Of course, Absolutely, or Definitely."
In all seriousness, though guys… Do I not have the best boyfriend in the world? I don't know where he finds it all, but I'm always smiling.