I almost didn't make it to Bradley. As the one school that had almost everything I wanted from the time we started looking at colleges sophomore year in high school, Bradley was definitely on my list of future schools. My junior year, I discovered that my high school boyfriend, Sam, also aspired to go to Bradley University…so when we broke up right before senior year, Bradley was the last place I wanted to apply.
With the help of a guidance counselor that I adored and spent a lot of time with senior year — thanks to the undecided nature of what I wanted to do for the rest of my life, I narrowed down my search. The lazy procrastinator in me didn't want to spend all of my weekends touring colleges, researching schools, and applying to a wide range. My counselor recommended 3 schools — my goal, my reach, and my fall back. My goal was a small school, but I still wasn't sure which. My reach was Notre Dame, and if I had gotten in, my dad would have sold his soul to pay for it. I'm pretty glad he got to keep his soul. 🙂 My fall back was ISU, though I feared the lack of success that would come with such a large school.
After many conversations with my pal Joe, who was a freshman at Bradley and loving it, I decided that Bradley was definitely the place for me. Joe, a comm major, assured me that my future in journalism would rest in the capable hands of the Global Communications Center at Bradley.
While the comm major in me never made it past freshman orientation, I survived four of the most amazing years at Bradley University in Peoria, Illinois. Home of the Bradley…Squirrels? Crazy Bicycling Asian Men? Rivermen? My school spirit was minimal, but my personal spirit thrived at BU.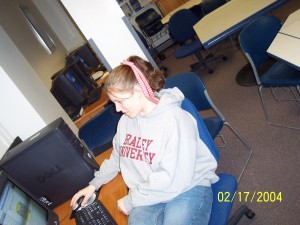 Spring of my senior year, Dad and I drove down to Peoria for a school visit. Driving through the quaint but large downtown area, over the river, and onto the beautiful campus, I fell in love. On the tour, we found that Bradley had everything I wanted except for a football team. We ate lunch at Geisert Cafeteria, which we thought provided a pretty decent meal (little did we know that "visitation days" were Bradley's best-kept meal secrets.) I was done. Sold. This is the school for me.
So I had a plan. And I got accepted.
That summer, I was to attend the freshman orientation: Two and a half days of the college experience. When Mom and I started the trip down, I was terrified. I cried. I didn't know what to expect or what I was going to do. I wouldn't know anyone. I kept thinking, What if it's horrible?
They separated the parents and the students pretty quickly, so I was forced to fend for myself in the collegiate jungle…amidst 80-some-odd other scared freshmen. I met another kid from Glen Ellyn, who we referred to as Glen Ellyn Steve until he later gained the name, Speech Class Steve. I also ran into another Glenbard East alum, who I had never spoken to. Throughout the rest of college, Danny and I maintained an excellent passerby-acquaintanceship based solely on our mutual high schooling. Funnier still, he ended up living with my best bud Cletus senior year. Additionally, I made a gaggle of girlfriends during the orientation activities.
On the first night, we stayed up until 3:00 AM, playing Truth or Dare Jenga, eating grilled cheese sandwiches made on one of the best inventions, ever–the grilled cheese sandwich press, and talking up a storm in a Geisert common room.
On the second night, I met my best friend in the whole world. After a rockin' dance party, in which I became the ringleader of a small group of suburbanites–promising that we would all get together over the summer for nights of dancing and hanging out and awesomeness, we made our way over to the East Peoria Steak & Shake.
Katie and I started chatting. She seemed like a pretty cool chick with her sassy punk rock princess tee-shirt, brightly colored Chuck Taylor's, and wide leg jeans. I remember making her giggle when I ordered cheese fries and a kid-sized strawberry milkshake. This girl was going to be my pal. I just knew it.
While I left for orientation crying because I didn't want to go, I left orientation crying because I wanted college to start right away. No one to tell you what to do? No one worrying what time you're going to bed? All the time in the world, and living in a mini hotel with all of your friends? That was the place for me. Bring it on college. Bring. It. On.
Mom and I left for my uncle's house–we had our family reunion the day after orientation. On the way home, she began telling me her orientation stories. She hated it. After meeting Glen Ellyn Steve's parents on Day 1, she ditched out on half of the activities and hung out at the casino most of the time. Here's why:
The conversation between the Glen Ellyn-ites parents went as follows:
Mr. Glen Ellyn said, "Oh! Hey, you're from Glen Ellyn, too!"
Mom replied with a smile, "Yep."
Mrs. Glen Ellyn asked, "So, where in Glen Ellyn are you?"
"Right off Roosevelt, east of the tollway."
Mrs. Glen Ellyn looked at her confused, "Oh, where in Glen Ellyn is that?"
Mr. Glen Ellyn looked at his wife, patted her on the shoulder and said, "You know, honey…the projects."
My mom-disgusted-walked away. She was done. I don't blame her.
I, on the other hand, couldn't wait to return. The first few days of college were a blur, and I spent them with a new friend, Jessa, who I had met in my building. Every morning, Mom would call and ask me if I had gotten drunk yet. I hadn't. During my wandering and exploring with Jessa, I kept passing this girl I knew from orientation. I couldn't remember her name until day 3 when we were passing each other in U-Hall. I looked at her and said, "Katie?" She smiled back at me in recognition. We started chatting and got into a conversation about drinking. She told me that her roommate, who she had met at orientation, wasn't a drinker and that she needed a drinking buddy. I told her that I was in. We've been best friends ever since.