Earlier this week, Brian and I had the privilege of attending a pre-screening of Beauty & the Beast in 3-D Imax.
As expected, the movie was utterly delightful. Following a similar path as live-action Cinderella, Beauty & the Beast offered a more detailed backstory for our heroine and also clued us in to more of Beast's tale. Unlike Cinderella, the movie needed to take fewer liberties for dialogue and plot thanks to an already rich screenplay.
With 1991's Best Picture nominee, they knew not to mess with the story too much, adding a few new musical numbers and smart character-building dialogue to the film.
The story of Belle and Beast is more developed, showing how she might be falling for him, despite the whole Stockholm Syndrome thing. With lines like, "Can anyone ever really be happy when they're not free?" and "we don't like what we don't understand," and a slightly more diverse cast than the original animation, Disney is trying to fight some of the stigmas that have plagued earlier films.
The music was…well, it was okay. Once you get past the auto tune job they did on Emma Watson and the weird filter they put on Dan Stevens' vocals, the songs you know and love plus a few new tunes wrap the movie in a familiar melodic blanket. I enjoyed the new music, including Audra McDonald's stellar performance as Madame Garderobe (Wardrobe) and a melancholy song, "Days in the Sun," which replaces the Broadway and remastered animated song, "Human Again" – a song I wasn't sad to see removed from this soundtrack as I never quite loved it.
The Disney CGI magic blew me away, as usual. The beast is almost real, the castle staff is incredibly detailed and ornate in a way that adds new depth to the visuals. "Be Our Guest" was everything I hoped it would be with Ewan McGregor at the helm. The scene itself was pure Disney magic at its finest.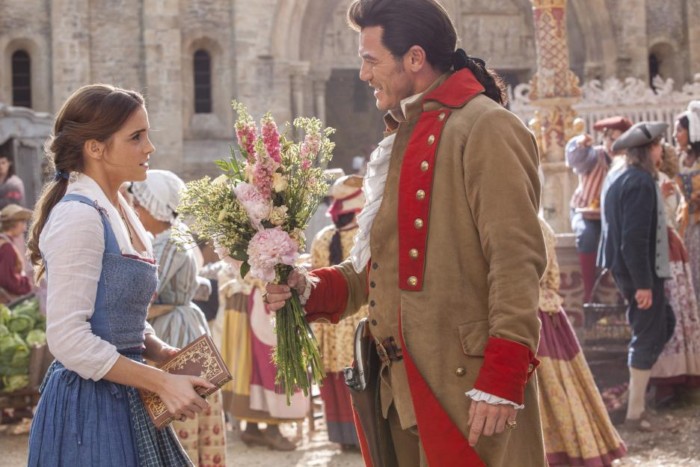 Luke Evans may have been may favorite, with my opinion of Gaston waffling from moderately attractive to completely heinous and despicable. Everything I want in a fairy tale villain. His "Mob Song" was incredible, and I'm quite sure of the solo vocals, his were my favorite — closely followed by Lefou's "Gaston."
Of course, I'm sure you've heard by now of Josh Gad's Lefou coming out of the closet he's been living in since 1991. It's a brief scene at the end of the movie, in which he dances with another man. Blink and you might miss it. But throughout the movie, you'll find other adorable Lefou nuggets that are sweet and funny in a very relatable way.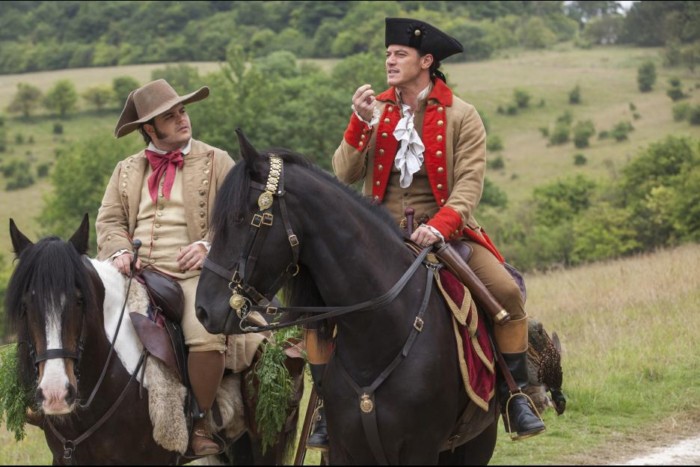 Keep an eye out for a few nods to Watson's breakout role as Hermione Granger, including a glimpse of Hedwig and Crookshanks.
Should you see Beauty & the Beast in 3-D? I vote no, and definitely not IMAX. While the CGI work is fantastic,  you lose some of the visuals with the rapid movement in IMAX, which I also found distracting.
Overall, a fine high-budget trip down memory lane to accommodate my generation's obsession with nostalgia. I'll go see it again for sure. Are you planning on checking this one out? What are you most excited about?
Beauty & the Beast
stars: Emma Watson as Belle; Dan Stevens as the Beast; Luke Evans as Gaston, the handsome, but shallow villager who woos Belle; Oscar® winner Kevin Kline as Maurice, Belle's eccentric, but lovable father; Josh Gad as Lefou, Gaston's long-suffering aide-de-camp; Golden Globe® nominee Ewan McGregor as Lumiere, the candelabra; Oscar nominee Stanley Tucci as Maestro Cadenza, the harpsichord; Oscar nominee Ian McKellen as Cogsworth, the mantel clock; and two-time Academy Award® winner Emma Thompson as the teapot, Mrs. Potts.
Directed by Oscar® winner Bill Condon based on the 1991 animated film, "Beauty and the Beast" is produced by Mandeville Films' David Hoberman and Todd Lieberman, with eight-time Oscar-winning composer Alan Menken, who won two Academy Awards® (Best Original Score and Best Song) for the 1991 animated film, providing the score, which will include new recordings of the original songs written by Menken and Howard Ashman, as well as several new songs written by Menken and three-time Oscar winner Tim Rice. "Beauty and the Beast" will be released in U.S. theaters on March 17, 2017.
All images used with permission from Walt Disney Studios.
This post may contain affiliate links that help keep this site running smoothly.