It's National Cookie Day, you guys. Do you know what that means? Fresh-baked, melty-chocolatey, delicious cookies should get in your belly. Immediately.
This post is sponsored by the fine people at Otis Spunkmeyer, several of whom I met a few weeks ago in Chicago while sampling their delicious snacks. As always, these opinions, ideas, and word babies are all mine. 
I love cookies. I've always been something of a cookie monster. C is for Chrissy. And cookie. Coincidence? I think not. I was raised to love cookies. I blame my dad. And grandfathers. They were all cookie monsters too. Well, my dad still is. One of his favorite gifts on birthdays and Christmas (a bottle of Courvoisier, wine, or scotch notwithstanding) is cookies.
When I was in high school, there was a little cookie stand down in the basement by the Driver's Ed simulator hosted by Otis Spunkmeyer (you remember Otis Spunkmeyer for their amazing cookies, probably in high school or college, right?) One of the teachers – I think he was a teacher – would be there every morning 20 minutes before school started through 2nd period, selling cookies. I think it was like 3 for a dollar or something.
Whenever I had time and an extra dollar, I'd mosey on down and order a triple chocolate chip cookie (chocolate cookie with milk and white chips), white chocolate macadamia nut cookie, and oatmeal raisin. And then I'd eat them in all their melty, fresh-baked glory. I've always wished I could make delicious cookies like that.
Alas, it's been many a years of baking…errors. If you haven't noticed from previous recipes, I'm terrible at following recipes to a T, which is something you need to do with baking. If you don't get just the right amount of butter, baking powder, baking soda (don't even get me started on knowing the differences!), eggs etc…you're doomed to failure. Just last week, I completely burned the Second Thanksgiving pumpkin cupcakes…More on what I did with that later…
I've made some pretty UNPRETTY cookies in my time. Flat cookies. Burnt cookies. Undercooked cookies (okay fine. Those were cookie dough balls and I ate them all). BUT…I've discovered the secret to perfectly baked cookies every time.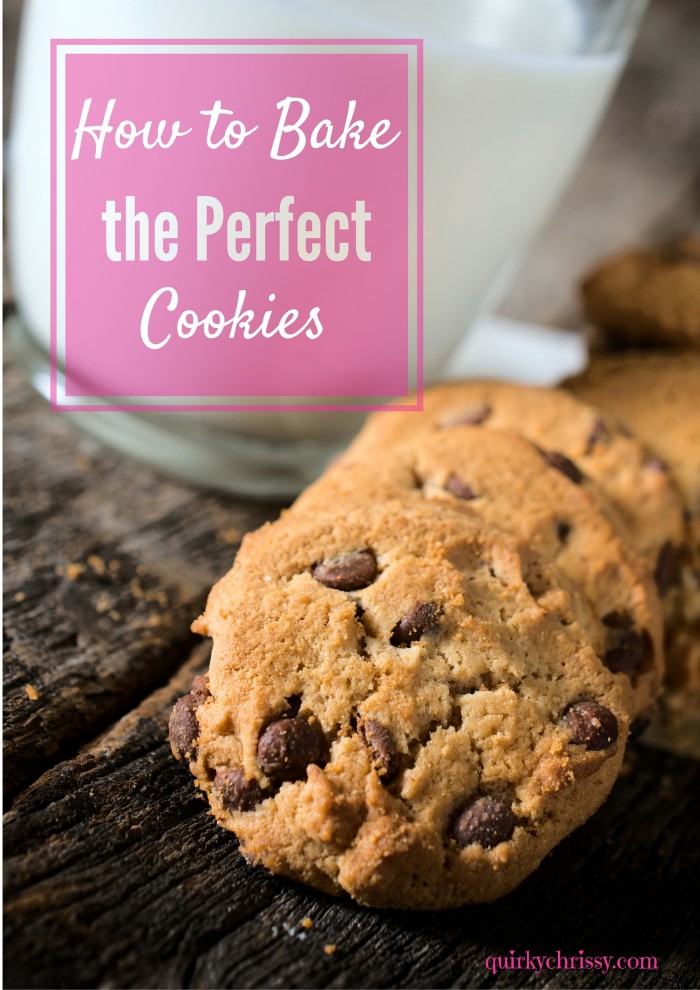 To make the best cookies, it's a four step process.
First, you remove the cookies from their wrappers. These Otis Spunkmeyer treats (which will be available in a grocery store near you starting early next year) are made with no funky stuff, so they taste just like Mom made them (but with so much less mess).
Then, you place the cookie on a pan (I used a toaster-oven-size stone baking sheet for added crisposity).
Bake the cookie for 5-7 minutes until it's warm to touch and the chocolate starts getting a little melty (wait too long and it'll be super messy, but probably super delicious).
[bctt tweet="The secret to the best fresh-baked cookies on the planet. "]
See how easy it is to celebrate National Cookie Day? That was my breakfast. I'll probably have another cookie for dinner. And maybe one for lunch. Brian usually discourages this sort of behavior…but he's not the boss of me!
Extra details on the Otis Spunkmeyer retail line of products: So much goodness is coming your way, you guys. They're launching snack cakes, muffins, mini muffins, and of course, cookies. They'll be in stores and on Amazon Prime Pantry so you can get your fill of deliciousness whenever you want it. And let me tell you. I tried them all, and you will not want to miss out (especially on the lemon cakes).
What are your favorite cookies? Do you have any cookie memories of Otis Spunkmeyer? Are you as excited for this product launch as I am?