Quirky Chrissy asked me to guest post today. All I could think to write about was a few of the bad dates I'd had in my twenties. This is me without enough coffee, obviously. Then, of course, I had to illustrate my adventures with crayons. That's what happens when you become a parent. You have to do everything with crayons. I mean, your kids steal all of the pens and hide them so they can write on the wall when you aren't looking. At least, that is what happens at my house.
When I was young I wasn't much of a dater (Wait, is that even a word? I'm guest posting on the grammar Queen's blog. It's making me so nervous about punctuation and poorly chosen words). I was more of a serial monogamist. I had boyfriends, not dates. There was a short, awkward period, in my twenties, where I did actually try to date, but it didn't exactly go so well. Usually, I'd just get nervous and say something embarrassing. Like this: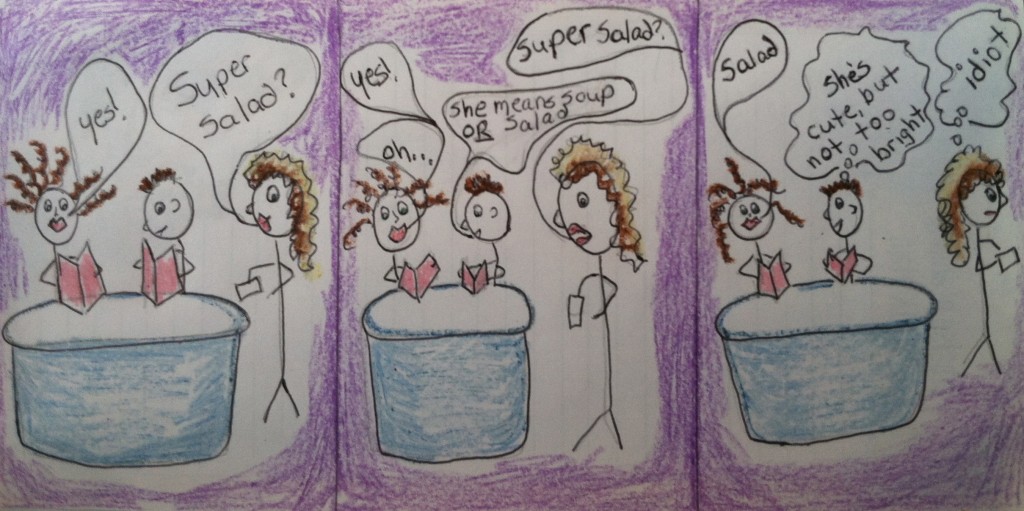 Sometimes, I'd trip, or fall, or spill my drink all over the table and my date. In my defense, that one time when I did spill my drink, my date was totally looking way too hard at the waitresses cleavage. It's not entirely my fault that Karma paid him a visit immediately. I mean, that just happens sometimes.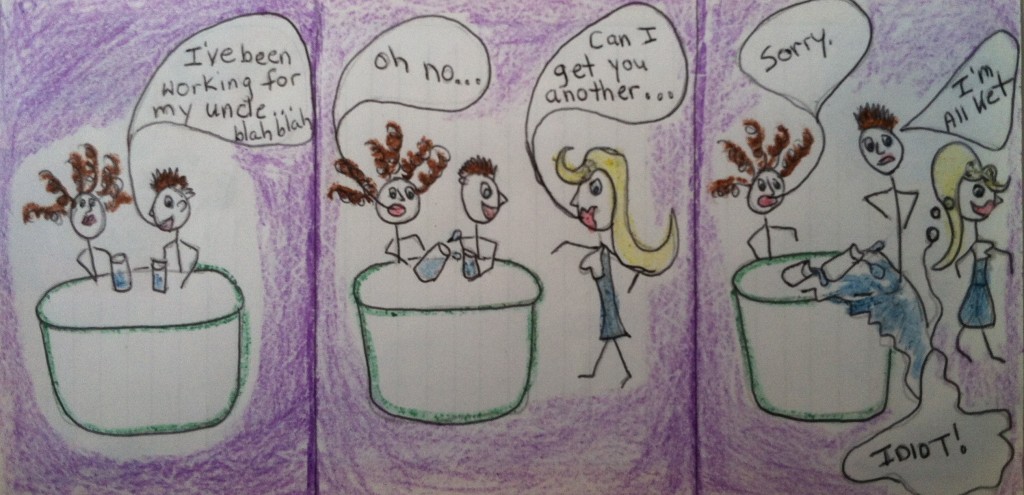 Dating has never been easy for me and now that I am married, it still isn't. All of the self-help relationship books say husbands and wives need date nights to keep the spark alive. My husband and I try to do this, but because we haven't found a reliable babysitter we often have to take our toddler with us. Whether or not a date, accompanied by a toddler, is actually a date, is debatable, but we are desperate (How many commas do I need here? Seriously, I don't even know…). We take what we can get. We go on dates with our toddler. All. The. Time.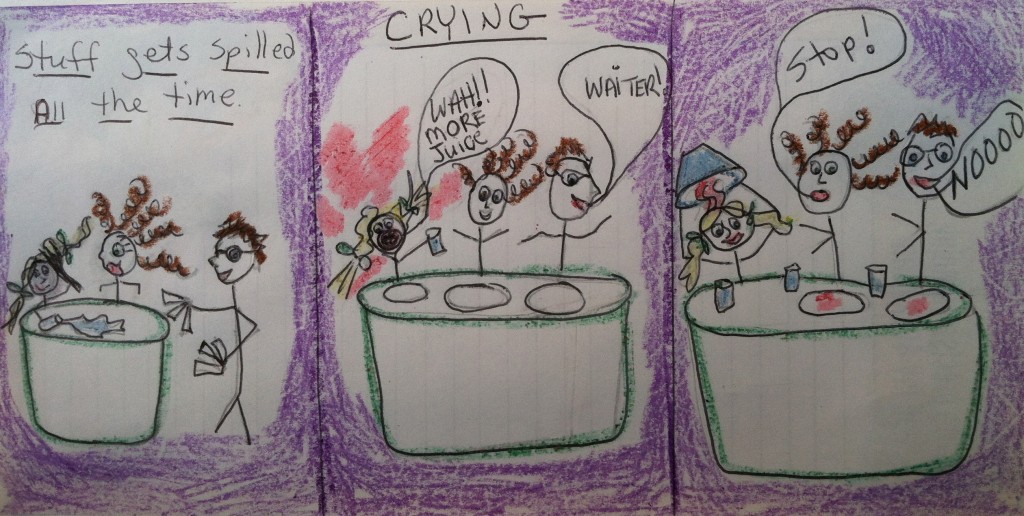 Last St. Patrick's Day, we drove an hour to a fancy restaurant and bar that promised food, green martinis, and dart championship games. When we got there the restaurant was closed and the bar didn't have food. Plus, it's weird to bring a toddler into a bar. I mean, everyone stops talking and sort of stares at you. It's awkward. We were annoyed by the restaurants false advertising. We were also all really, really hungry. So, we got back in the car and headed towards the last restaurant we had passed on our 60 mile drive. Before we could get there, our daughter started crying and saying her tummy hurt. I figured she was probably just hungry. We all were. We were all getting a little cranky too. Unfortunately, I was terribly wrong. She wasn't just hungry. She was sick. The vomiting started and would not stop. We pulled over on the side of the road. I tried to clean her up. We had vomit all over. It was kind of a disaster. We were all wearing green, looking miserable and smelling like vomit all the way home.
Last St. Patrick's Day was probably my worst bad date ever. Between the restaurant being closed, the cranky husband, the cranky toddler and the ode to vomit perfume (not to mention we ended up having spaghetti for dinner) it was spectacular in all the wrong ways. Still, at least I didn't have to worry about getting a second date. I mean, we sealed that deal years ago. Thank God. Now we can just call bad dates life.