Last night, I came across my favorite annual article, just in time for Thanksgiving. You know the article. The one that yells at you to stop adding a fucking apostrophe to your name when you send your Christmas card.
Well, that article is, as it always is, spot on. But it's not just YOUR name you have to worry about. How are you addressing your recipients' names on the envelope?
As someone who sent eleventy billion wedding invitations and thank-you cards last year and sends dozens of Christmas cards every year addressed to families and couples galore, I have developed a number of potential solutions for you. You never have to worry about a last name seeming off when it's pluralized again.
Instead of addressing your adorable photo Christmas card to The Wojs (which is the correct way to address a card to my family), try one of these simple variations.
Address Christmas cards using both or all the names
Look, you can try to be fancy and fail miserably with your misguided apostrophe (stop calling us the Woj's!)…OR you can be super cool and use both of our names. Just because we got married doesn't mean we're no longer individuals. If you want to get really fancy with it, you can use our full names. Brian's name is still Brian. But I suppose you can call me Chrysanthemum if you really feel as if full names are important. If we had kids or dogs, you could add their names too. Sure it would take up a lot of space, but isn't my pet Ebenezer the Sloth worth it to you?
Address the holiday card card to the whole family
Instead of worrying about accidentally shoving an apostrophe in the last name — because OMG you can't possibly just put an S after a J — just address the card to a single family unit, like The Woj Family. Sure Brian and I are just two people, but we ARE a family unit. We live in the same house. We argue about toothpaste squeezing procedures. The best part is that it doesn't matter if there's two of us or twelve of us. It's the same three words across the board.
Address cards to the person you like better
I mean…maybe it's the person you know better. Or you don't know their family at all. You might just address the Christmas card to me and say, "Screw Brian. He has his own people." Or, if you're feeling extra generous and want Brian to feel the love, you can add him as an afterthought by addressing your card to Chrissy Woj and family. Either way, we'll know who you really meant to send the card to.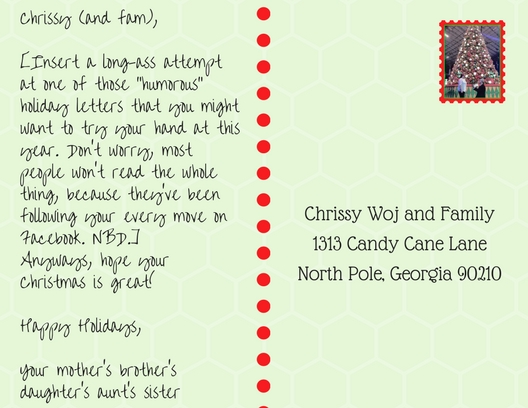 There you have it, folks! Easy alternatives to addressing your Christmas cards to the correct person. If you'd like to receive a Christmas card from Brian and me this year, fill out this Google form with your address and you'll likely get something in the mail by December 24. I'm nothing if not a procrastinator.