Because I couldn't interview Wil Wheaton. Even though Lily from It's a Dome Life was lobbying really hard for me.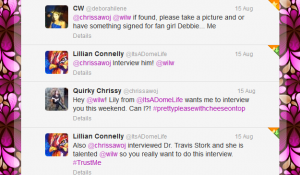 And I know how much you love my interviews…
And really, it's not so much of an interview as a conversation.
And by conversation, clearly I mean witty banter.
And by witty I mean…well, I'm not sure what I mean, but you'll see.
Hey! Did you know you can buy my book on Amazon? 37 women wrote about the struggle for perfection, and I'm one of 'em. Go check it out!